It's not uncommon to see drivers struggle in Formula 1 - for reasons both within and outside their control - but become successful in other categories of racing. Here are 11 such drivers.
Nelson Piquet Jr.
Photo by: Alessio Morgese
Piquet Jr arrived in F1 in 2008 as a GP2 runner-up and with the pressure of matching his father's - a three-time champion - achievements. During his one-and-a-half year stint in F1, he failed to make much of an impression and was fired from his team Renault when the 2008 Singapore GP Crashgate scandal became public. However, he found immediate success in Formula E, winning the series' first ever drivers' title in 2014-15.
Stéphane Sarrazin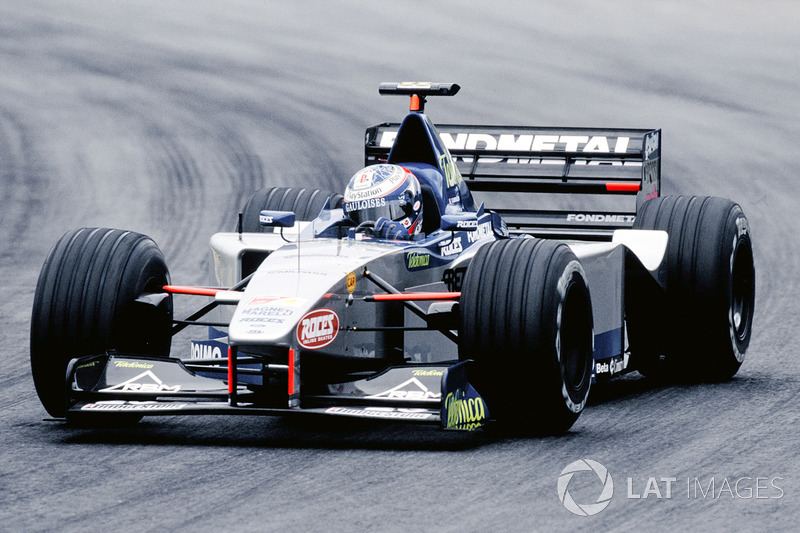 Photo by: LAT Images
Stephane Sarrazin made a sole F1 appearance in the 1999 Brazilian GP as a replacement for the injured Luca Badoer. His race ended in a horrific crash when the front wing of his Minardi collapsed, pitching him into a spin on the pit straight. Fortunately, Sarrazin was uninjured and he went on to have a successful career, particularly in sportscar racing. The Frenchman twice won titles in the Le Mans Series, the precursor to the present-day WEC, and also scored several podiums in the Le Mans 24 Hours race.
Bernd Schneider
Photo by: LAT Images
When Bern Schneider drove for perennial backmarker Zakspeed between 1988-99, qualifying for a race - a pre-requisite at that time due to large number of entries - was itself a victory for them. A decision to join Mercedes' DTM programme turned out to be a life changer and he won a record six titles in the series. Schneider's association with Mercedes, which also yielded titles in FIA GT and International Touring Car Championship, continues till date.
Scott Speed
Photo by: GEPA Pictures
American racer Scott Speed's tenure in F1 lasted for 1.5 years but his inability to score points meant he was replaced at Toro Rosso during the middle of the 2007 season by a certain Sebastian Vettel. However, he was later much successful in the US-based Global Rallycross Championship, winning three consecutive titles with the Volkswagen Andretti team between 2015-17.
Gabriele Tarquini
Photo by: LAT Images
Gabriele Tarquini recently won the 2018 World Touring Car Cup title at the age of 56. He has also been champion in the BTCC, European Touring Car Cup and the World Touring Car Championship. However, his F1 results barely did justice to his talent. During a grand prix career that lasted nearly a decade between 1987 and 95, he failed to qualify for 40 out of 78 races he entered.
Jean-Louis Schlesser
Photo by: LAT Images
Jean-Louis Schlesser took part in just two F1 races, the second of which came with Williams as a replacement for the injured Nigel Mansell. It was a lapped Schlesser who had a collision with Ayrton Senna at the 1988 Italian GP - an accident that prevented McLaren-Honda from securing a clean sweep of victories in that season. Schlesser, however, was a pro at cross-country rallying and won the Dakar Rally in both 1999 and 2000.
Alessandro Zanardi
Photo by: LAT Images
A point with Team Lotus was the only consolation prize for Alessandro Zanardi during his brief F1 career. But he was hardly a slouch, as attested by the two titles he secured in the CART series between 1997-98. An accident in 2001 left him with amputated legs, but he still managed to race actively around the world. Since then he has scored several race wins in the WTCC and has won gold medals at the Paralympics.
Hans-Joachim Stuck
Photo by: Rainer W. Schlegelmilch
Hans-Joachim Stuck's F1 career was arguably better than any of the other drivers in the list as he managed to score several podiums with Brabham. However, his grand prix racing success was far eclipsed by his achievements in endurance racing - three Le Mans 24 Hours wins with Porsche, a DTM title and a World Sportscar championship.
Sébastien Bourdais
Photo by: Steven Tee / LAT Images
Sebastien Bourdais' lack of results in F1 meant that he was dropped by Toro Rosso in the middle of the 2009 season, but he had already won five titles in CART/Champ Car by then. He has since taken a class win in the Le Mans 24 Hours and an overall victory in the Daytona 24 Hours.
Yannick Dalmas
Photo by: LAT Images
Yannick Dalmas won Le Mans 24 Hours four times in the 1990s. He was part of the three-driver crew that piloted the McLaren F1 GTR to an outright victory at the 1995 Le Mans 24 Hours against prototype opposition. However, his F1 career was hardly anything to write home about as he mostly competed for the less-funded teams.
Emanuele Pirro
Photo by: LAT Images
Emanuele Pirro scored a grand total of three points for Benetton and Scuderia Italia during a grand prix career that lasted just short of three years. However, he was part of Audi's dominant sportscar crew at the start of the millennium and won the Le Mans 24 Hours five times for the German marquee.
With input from Lewis Duncan, Kyran Gibbons, Piotr Magdziarz and Craig Woollard